Bronze Separating Hinges (pairs)
Bronze Separating Hinges (pairs)
Product Description
Famous "snap-apart" or separating hinges. These quality bronze hinges have a sprung centre pin to enable quick removal without the use of tools. They work exactly like normal hinges, but pull the sprung pin on each hinge and simply remove the hinged flap or door without fuss.
Suitable for engine covers, hatches, chart tables, ladders and more, these rugged New Zealand-made hinges are sold in pairs.
Finished in polished bronze or chrome plated, the hinges can be fastened with 8-gauge silicon bronze screws or bronze machine screws (both to be purchased separately).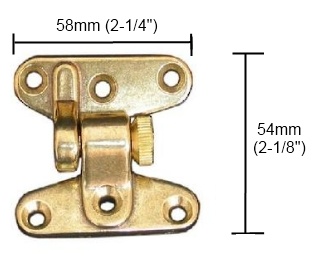 ---
Davey & Company London Ltd.
Davey's entire catalogue is available from Classic Boat Supplies, however only a selection is currently listed online. Contact us for information & prices of Davey's other products.

View Davey & Company products currently available online from Classic Boat Supplies.
---
Find Similar Products by Category
---
Customers Who Viewed This Product Also Viewed